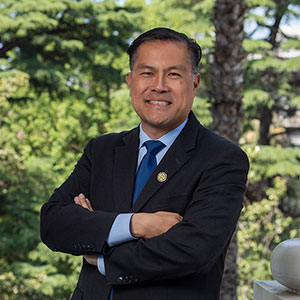 Mike Fong was elected to the 49th District of the California State Assembly in February 2022, where he is honored to represent the cities and communities of Alhambra, El Monte, Monterey Park, Arcadia, Rosemead, San Gabriel, Temple City, South Pasadena, East San Gabriel, San Marino, South San Gabriel, East Pasadena, and North El Monte.
In the Assembly, Mike serves on the Appropriations; Banking and Finance; Privacy and Consumer Protection; Rules; and Arts, Entertainment, Sports, Tourism, and Internet Media Committees. His priorities include expanding access to quality higher education, healthcare, protecting the environment, ensuring public safety, creating jobs, and addressing homelessness.
Prior to his election to the Assembly, Mike served as a Trustee of the Los Angeles Community College District. There, he pushed forward policies that increased student success, improved educational access and quality, and expanded workforce education and high-growth sector training programs at the nine community colleges serving over 250,000 students across Los Angeles and surrounding cities.
A lifelong public servant, Mike has led teams in his various professional roles with the City of Los Angeles, working on issues such as housing access, civic engagement, youth employment, workforce development, and education. Most recently, he served as the Director of Policy and Government Relations for the Department of Neighborhood Empowerment. He was previously the East Area Director for Los Angeles Mayor Antonio Villaraigosa and a Field Deputy for Los Angeles Councilmember Ed Reyes. In these roles, Mike served the dynamic and diverse communities of Northeast and East areas of Los Angeles.
A product of Los Angeles County, Mike graduated from California State University at Northridge with a Master of Public Administration in Public Sector Management & Leadership and from University of California at Los Angeles with a B.S. in Psychobiology and a minor in Education.