Cooling Centers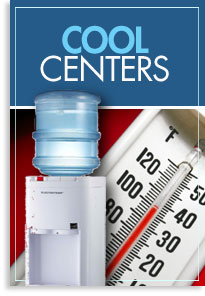 The National Weather Service predicts extremely high temperatures for Southern California this summer, reaching as high as triple digits in the Los Angeles region. The excessive heat puts local residents at greater risk for health-related illnesses such as heat stroke, as well as possible power outages throughout the region.
Please take the precautionary measures to decrease the risk of heat-related illness.
Stay hydrated throughout the day.
Stay indoors if possible.
Apply sunscreen if you are planning to be outdoors.
Take frequent rest breaks in shaded or air-conditioned areas.
Avoid leaving people or pets in enclosed vehicles.
Should you need a shelter to escape the heat, please check out your local cooling centers throughout the San Gabriel Valley.
Alhambra
Joslyn Adult Recreation Center
210 N. Chapel Ave.
Alhambra CA 91801
626-570-5056
8 a.m. - 5 p.m. Mon-Fri
Arcadia
Arcadia Community Center
365 Campus Dr.
Arcadia CA 91007
626-574-5130
8 a.m. - 4 p.m. Mon – Fri
Arcadia Public Library
20 W. Duarte Rd.
Arcadia CA 91006
626-821-4364
10 a.m. - 9 p.m. Mon-Thu
10 a.m. - 6 p.m. Fri-Sat
El Monte
El Monte Library
3224 Tyler Ave.
El Monte CA 91731
626-444-9506
10 a.m. - 8 p.m. Mon-Thu
9 a.m. - 5 p.m. Fri
10 a.m. - 5 p.m. Sat
1 p.m. - 5 p.m. Sun
Jack Crippen Multi-Purpose Senior Center
3120 N. Tyler Ave.
El Monte CA 91731
626-580-2210
7:30 a.m. - 7:30 p.m. Mon-Thu
8 a.m. - 7:30 p.m. Fri
10 a.m. - 5 p.m. Sat
Montebello
Potrero Heights Park Community and Senior Center
8051 Arroyo Dr.
Montebello CA 90640
626-927-5430
8 a.m. - 5 p.m. Mon-Fri
Monterey Park
Langley Senior Citizens Center
400 W. Emerson Ave.
Monterey Park CA 91754
626-307-1395
8 a.m. - 5 p.m. Mon - Fri; Sat - Sun
San Gabriel
Asian Youth Center
100 Clary Ave.
San Gabriel CA 91776
9 a.m. - 6 p.m. Mon-Fri
South El Monte
South El Monte Senior Center Transportation
1556 Central Ave.
South El Monte CA 91733
626-443-0131
8 a.m. - 5 p.m. Mon-Fri
10 a.m. - 2 p.m. Sat (Saturdays only in July/August)
What You Can Do to Help Conserve Energy at Work and at Home
Set thermostats no lower than 78 degrees
Use electric fans instead of air conditioning when practical
Turn off unused appliances and switch off lights when leaving a room
Operate energy-intensive appliances during early morning or evening hours
Model energy conservation behaviors and encourage your friends, family and members of your community to do the same at work and at home
The California Independent System Operator (CAISO) has declared a Flex Alert, which is a voluntary call for businesses and residents to reduce their energy usage in response to falling power reserves
More tips and info can be found at the Flex Alert website